Unauthorized Talk On Dr. Sanjay Gupta
Friday, April 14, 2006
Dr. Sanjay Gupta

Happy Easter Dr. Gupta...From your fans the Gupta Girls.

posted by LaJuan @ 6:27 PM
Tuesday, April 11, 2006
Dr. Sanjay Gupta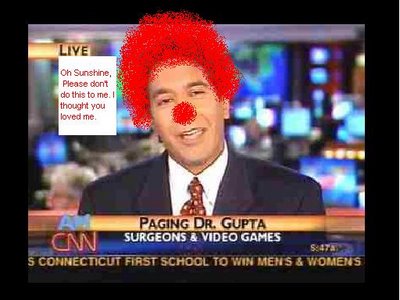 Sunshine: I do love you Dr. Gupta, I just think you look foxy like that. The red hair turns me on.

posted by LaJuan @ 11:08 PM
Dr. Sanjay Gupta

BettyLuvsGupta: I think there is real love in my heart for Dr. Gupta and someday he will know this.


Carly: Yes Yes I know! Dr. Gupta is a woman's wet dream come true.


Momma: I'd like to butter his behind, and bast it just a bit before I sink my teeth into it.

posted by LaJuan @ 5:31 PM
Sunday, April 09, 2006
Dr. Sanjay Gupta
posted by LaJuan @ 10:01 PM
Dr. Sanjay Gupta

THE NEW DR. SANJAY GUPTA


Ann: There's a new Dr. Sanjay Gupta out on the Internet...His momma raised him wrong and he's out to prove it...His only goal in life is to give really bad medical advice. But this man is funny and I think I love him. I've taken his advice and already I'm near death myself. Here's a link to his website. If you enjoy laughing this is a great website.

posted by LaJuan @ 10:47 AM